How this site can help you level up your business, brain and life.
👋🏾
This site is where I share the best of what I've learned in over 11 years of successful entrepreneurship in real estate, technology and mental wellbeing (and what I'm learning right now).
The main topics I write about are:
Entrepreneurship
Mental performance
Personal growth
Everything is designed and intended to help you level up your business, brain or life.
Ready to dive in? Here's the good stuff 😎 (articles).
A warning ⚠️ (how this place works):
This is not a rewarding place for the unmotivated or those seeking social media style instant gratification (a hit of dopamine, with a side of no actual change 😭).
If that's you, you probably won't like it here.
But... if you:
✅ Are hungry for usable practical tools and tactical info;
✅ Want to scratch under the surface to go deeper;
✅ Act on what you read;
(or are trying to be any of those things)
and want a shortcut to the curated benefits of my decade of mistakes experience and ongoing learning.
...then you will be richly rewarded here.
I promise not to dumb down my writing, but...
I also promise to keep it practical, simple and usable.
I pinky promise this is a straight talking, no BS zone.
If you're curious about why I write and what's in it for me, scroll down.
I sincerely hope my work helps improve your business, brain and life.
Thank you for reading 🙏🏾
About me (who the heck is Niraj Shah? 🧐):
💬
I'm an experienced real estate, wellbeing and technology entrepreneur with a pretty crazy origin story...
A sudden, serious stroke at just 30 changed my life.
Ever since then (2010), I've been striving to squeeze the most out of it.
I am ridiculously lucky to be (99%) intact and able after suffering a cerebellar infarct (the type of stroke I had). I hope you never need to go through something like that to light a fire under you and in your soul.
If you're curious about that tale and (more importantly) what I learned that can help you, read about it here.
---
Since 2012 I've founded / co-founded 4 businesses in real estate and business investment (DKZ Equity), real estate technology (CrowdProperty), mental wellbeing (Mind: Unlocked™) and sports technology (DSO™).
Since 2015 I've invested in and/or advised a number of other people's businesses.
My main focus today, through DKZ Equity, is:
1. Helping SME / SMB business owners to scale and sell, or turnaround their struggling business.
2. Investing in and asset managing commercial real estate.
---
Alongside business, my life's primary passions and pursuits are:
Health: brain + mind optimisation, short term vitality, long term longevity, wellness technology.
Spiritual development: understanding the human spirit and mind.
Adventure: which I find through walking, travel, snow, mixed drinks and ice cream 😍.
And having fun along the way (otherwise, what's the point?).
And starting sentences with and 😉.
You can find out more about me on this About Me page.
Why do I write?
💡 Clarity - the process of writing forces me to organise, evaluate and refine my thoughts. Writing is my gateway to clearer thinking, true learning and deeper understanding of these topics.

🎁 Contribution - over the years my writing has helped countless people around the planet improve their lives, businesses and mental wellbeing. Hundreds of them have told me about it. I want more of that warm, fuzzy feeling.

💙 Attraction - my articles, interviews and press coverage have helped bring so many great people and opportunities into my businesses and life. I'm greedy 😉. I want more of those!
Here's a snapshot of my life: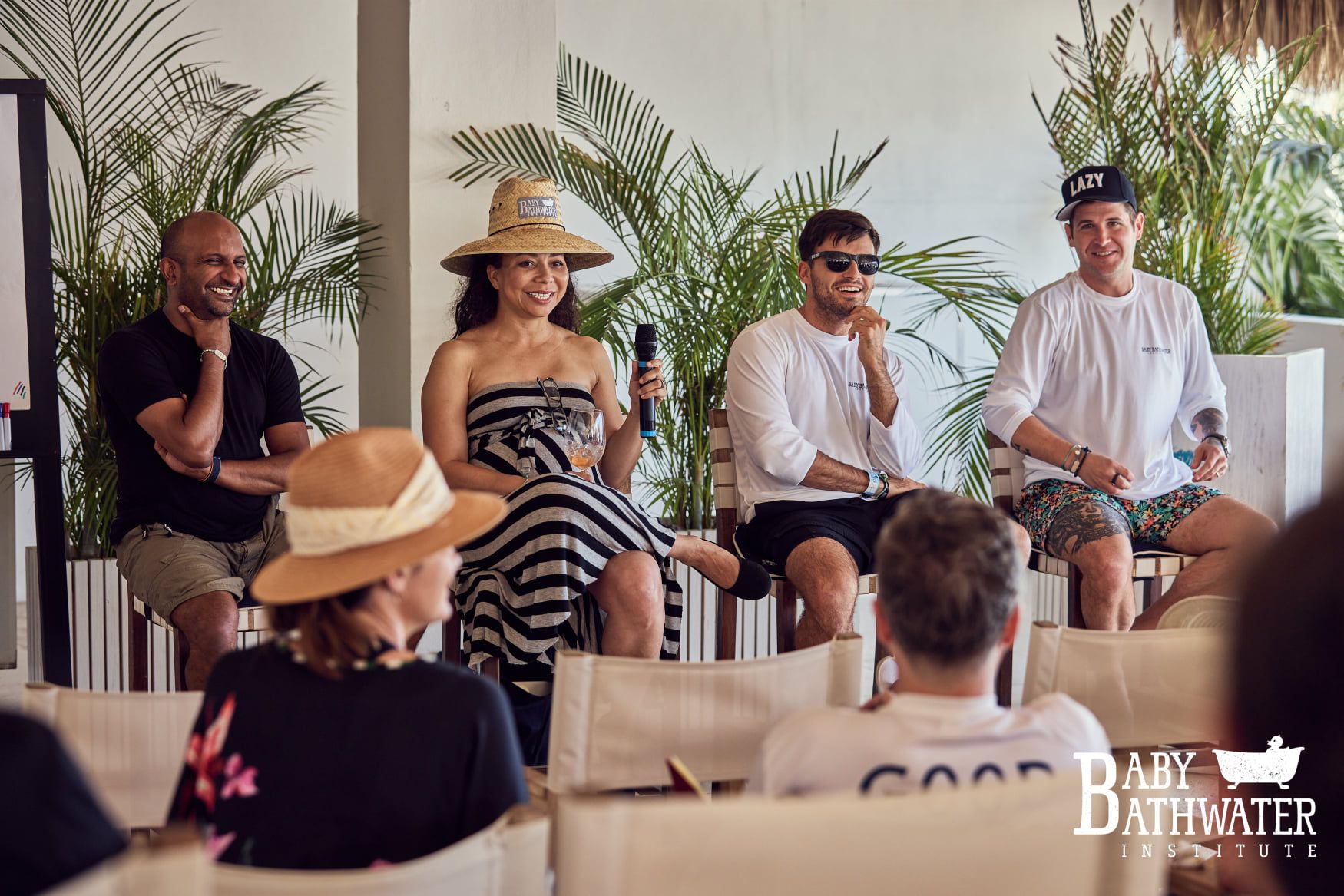 From the top left:
Leading a tech panel at Baby Bathwater, Mexico, 2022
Speaking on the main stage at Live Well London, 2019
Speaking to entrepreneurs in London, 2018
Leading 1000 Londoners in meditation on a closed down Tower Bridge, London, 2019
Snowga on the beautiful slopes of Tignes, France, 2016
Shaking up non-alcoholic cocktails at an event, London, 2018
Finding a flow state in Aspen, Colorado, 2017
Snow time with the love of my life in Park City, Utah, 2020
A fake meditation capture by uber talented photographer Philip Suddick, courtesy of Equinox and Adam Husler at London's Design Museum, 2018